The different players in business process management
by Veronika Altenbach
14. August 2023
5 minutes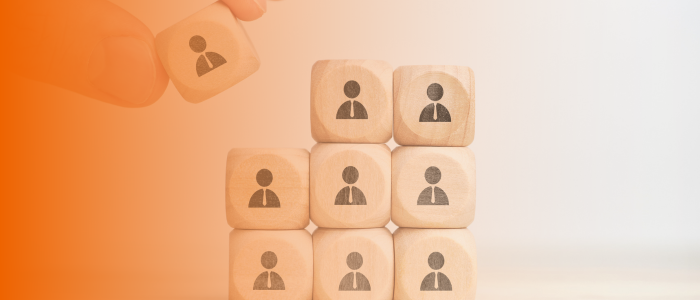 Smoothly functioning business processes form the backbone of any successful organization. But who actually contributes to ensuring that processes run efficiently and effectively? The answer may come as a surprise: It's not just the process managers or IT specialists, but a wide range of players, from the management level to those who execute the workflows. In a nutshell: All can contribute to process improvement to ensure that processes are implemented efficiently and effectively. Depending on the application of the Business Process Management Lifecycle approach, the roles and responsibilities of stakeholders may vary by phase.
Business Process Management Lifecycle
Let's take a closer look at the stakeholders in business process management (BPM) and their respective roles and responsibilities.
Stakeholders in Business Process Management
Roles and responsibilities in focus
Process managers – the conductors of the BPM orchestra
Process managers are the driving forces behind the daily execution of a smooth process flow. They monitor, optimize and adjust processes to ensure that the set goals are achieved. These dedicated professionals are at the heart of Business Process Management and actively work to improve workflows.
Process owners – holistic thinking for efficient operations.
Process owners have oversight of the entire end-to-end process. Their job is to ensure that processes run efficiently and without bottlenecks. They coordinate and optimize cooperation between the various departments and ensure that the entire process runs smoothly.
Process participants – the active role on the BPM stage
Process participants are individual persons or entities such as employees, departments, customers or external partners. Their responsibility is to perform tasks, follow individual process steps, and interact with the process to achieve the intended goal.
Business analysts – the architects of process improvement
Collaboration between process managers and business analysts is critical. Together, they analyze processes, identify weaknesses and develop measures for optimization. Business analysts play a key role in developing action plans that pave the way for continuous improvement.
Process Developer – Increases Efficiency through Automation
Process developers are individuals responsible for modeling, developing, implementing and testing technical and executable processes. They apply technology solutions to increase process efficiency and performance through automation.
Subject matter experts – first-hand knowledge
Subject matter experts are invaluable because of their practical knowledge. They provide essential information such as experience and insight to complete and refine process documentation. They help to understand practical work and ensure that processes work effectively.

Readers – understanding to ensure a smooth process
Readers are those employees who look at process documentation to understand the workflows it affects. This can also include auditors who ensure that processes comply with policies and regulations. Because of this, a clear understanding of processes at all levels is critical to success.
Auditor – Guardian of Conformance
Internal and external auditors have the important task of ensuring that the organization complies with internal as well as external policies and standards. By auditing processes for conformance, they help build confidence in the organization and its operational processes.
Other key players in the BPM ecosystem
In addition to the stakeholders mentioned above, there are a variety of other key stakeholders such as:
Regulators are responsible for monitoring, enforcing and complying with laws, regulations and standards.
Quality officers are responsible for ensuring the quality standard of products or services.
Compliance managers are responsible for ensuring that the organization acts in accordance with applicable regulations in all areas of its business operations.
Risk managers are charged with identifying and analyzing potential risks and designing and implementing appropriate measures to minimize or manage them.
Enterprise architects take responsibility for developing and elaborating the strategic direction, business processes, technological infrastructure and relationships between departments. Working closely with process managers, they work to map the enterprise and document processes.
The above stakeholders play a specific role in ensuring smooth and effective process flow.
Overall, the wide range of stakeholders involved in business process management (BPM) shows how complex and interconnected modern business processes can be. Collaboration and communication between stakeholders are therefore key to successful process optimization and the achievement of business goals. Business process management does not only concern a specific department or group of people, but the entire organization. It is the common approach that empowers everyone to play their part in efficient and effective business management.
Seize the opportunity to actively shape the success of your organization
Increase the efficiency and effectiveness of your organization through targeted process­optimization with our support.