CI/CD-compliant advertising material for franchisors with web-to-print
by Veronika Altenbach
16. October 2023
3 minutes
As a franchisor, have you thought about how your franchisees can ensure a consistent brand presence despite their regional needs?
In a world where consistency and speed, as well as targeting, are key, it is essential for franchisors to ensure that their promotional materials comply with corporate guidelines while being created and distributed efficiently despite customization needs. This is where a web-to-print solution can play a crucial role.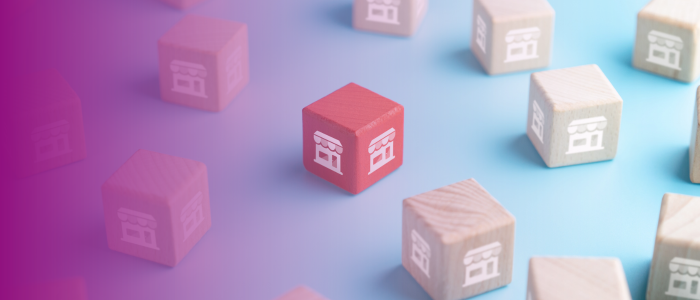 The role of a web-to-print solution
For franchises, maintaining a consistent brand identity is a fundamental requirement to build customer trust and increase brand awareness. Deviations from corporate identity (CI) guidelines can cause confusion and have a detrimental effect on the success of the franchise operation. In this regard, a web-to-print solution helps businesses create, edit and order individualized communications online. Printed materials such as flyers, business cards, brochures, posters and other promotional materials can be customized – within CI guidelines – without the need for special graphic design skills or printing knowledge.
The 7 advantages of a web-to-print solution for franchisors
Customization: Franchisees can adapt their franchisor's standardized communications materials to local needs to ensure effective marketing in their region.
Consistency: Franchisors can ensure that all materials adhere exactly to CI guidelines – regardless of location or franchisee.
Efficiency: With web-to-print, documents can be created and printed quickly – supported with an approval process if required.
Time savings: CI/CD-compliant promotional materials are produced in real time and delivered directly, allowing rapid response to marketing opportunities.
Cost savings: Because the process is automated, fewer resources are required to produce the marketing materials.
Reduction of errors: thanks to the elements defined in the system (texts, images, dependencies), the templates are already CI/CD compliant, minimizing errors during use.
Brand integrity: the brand remains strong and is not compromised by unauthorized changes or deviations from CI guidelines.
Consistent brand presence in spite of individualization
The implementation of a web-to-print solution for CI/CD-compliant communication materials in franchise companies is an important step towards ensuring a uniform brand presence despite individualization. It enables franchisors to respond quickly to marketing opportunities without compromising brand presence. This technology is changing the way franchises manage, distribute and deploy their marketing materials.

Smart W2P solutions for efficient franchise marketing.
Discover the benefits of a web-to-print solution to optimize your brand presence!